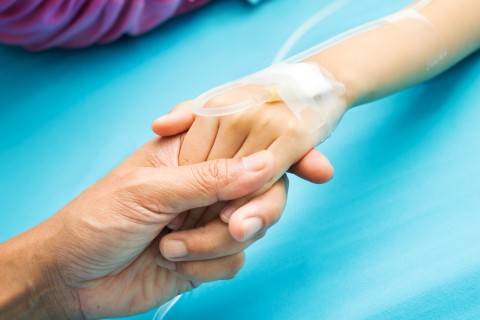 Radiation therapy can be useful in the treatment of nearly any type of cancer that may affect children anywhere in the body. Radiation therapy often is recommended to treat solid tumors in the organs and also may be used to treat cancers in the soft tissues (such as muscles), bones, brain, or blood (such as leukemia). Children of all ages can benefit from radiation therapy, from infants to school-age children, to adolescents and older teens. At the University of Chicago Medicine Comer Children's Hospital, pediatric radiation oncology specialists have experience treating common and very rare forms of childhood cancers with radiation therapy.
Depending on each child's specific diagnosis, radiation therapy may be used as the primary form of treatment, or may be used before or after other types of treatment such as surgery, chemotherapy or bone marrow transplant.
Comer Children's Hospital is on the leading edge in offering state-of-the-art radiation oncology options. The pediatric program here builds upon the University of Chicago's world-renown radiation oncology program for adults. While drawing from the vast scientific and therapeutic resources available for adult patients, however, the pediatric radiation oncology program here provides a completely child-friendly approach--with physicians, nurses and staff who specialize in working with children of all ages, from infants through older teenagers.
Radiation therapy uses a special type of very high-energy X-rays to destroy cancer cells and shrink tumors. In order to give children and their parents the most effective treatment options to meet their needs, Comer Children's Hospital offers a complete array of radiation oncology services for children, from long-established conventional approaches to the very newest methods available at only a few select centers across the U.S. We use approaches that target tumors as precisely as possible. That means more impact where it's needed and less damage to normal tissue nearby. The bottom line: more effective disease control and fewer short- or long-term side effects.
Unlike some pediatric cancer programs, all radiation oncology services are provided on-site at the University of Chicago medical campus. In addition to offering convenience for parents and families, the on-site services allow seamless coordination of each patient's care by the team of physicians.