At the forefront of Cancer Care and Discovery
The University of Chicago Medicine is home to one of the most experienced and well respected radiation therapy teams in the country. Working together, our doctors and physicists design and deliver the most effective treatments available anywhere. In fact, our patient outcomes are equal to the most well known cancer centers in the country.
Treatments
List of Radiation Techniques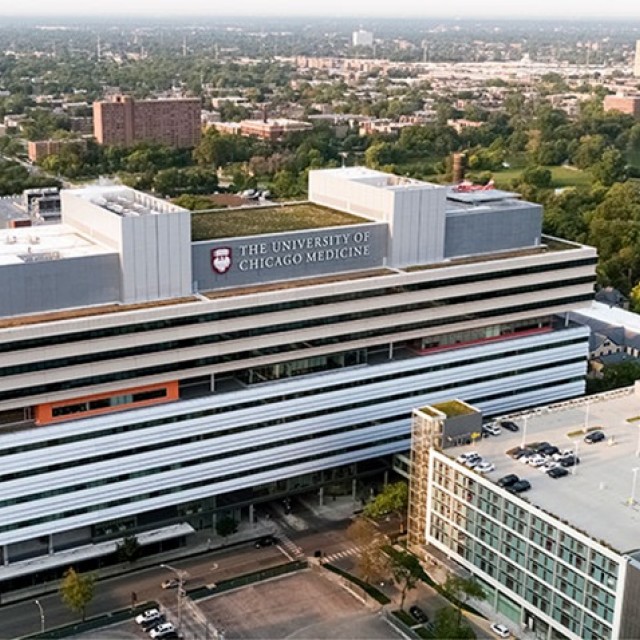 Safe and Effective Radiation Therapy
The radiation oncology team at the University of Chicago medical center is one of the best-integrated cancer teams in the Country. We are committed to providing quality care in a manner that is safe and effective.  Our programs have formal QA and quality improvement components including chart rounds, peer review and tumor boards. Our board-certified team of physicists and radiation oncologists ensures that each and every patient receives the best care available.  
Our radiation therapy team frequently collaborates with leading manufacturers of radiation therapy equipment on research and development. As a result, we have early access to advanced radiation technology. More than two decades ago, our doctors pioneered the use of intensity-modulated radiation therapy (IMRT) for complex gynecological and head and neck treatments. We were among the first hospitals in the country to offer image-guided radiation therapy (IGRT). Now we are utilizing the latest advanced image guidance approaches on the world's leading radiation treatment platform to provide unprecedented precision.
Using this advanced technology enables a range of radiation therapy treatments for cancer, so our expert doctors can choose the best treatment for each patient. With highly precise image-guided treatment delivery, we can target the radiation on the tumor and avoid healthy tissue more successfully than before. This often leads to better outcomes and substantially fewer side effects. In addition, compared to some alternative technologies, most treatments can be delivered in short daily doses of a few minutes over a period of weeks, rather than sessions of an hour or more. This is an added benefit for patients who may be anxious about lying still for long periods of time.