The University of Chicago Medicine is home to cancer specialists who are internationally recognized for their expertise in the treatment of prostate, kidney, bladder, and other urologic cancers. Our team is dedicated to eliminating your cancer while minimizing the effects of treatment on your general health and lifestyle. Our experts specialize in the latest techniques to fight cancer, including new anti-cancer treatments, in which combined therapies are used to provide a "one-two" punch against cancer. At the medical center, a team of experts--including urologists, medical oncologists and radiation oncologists--works together to develop novel treatment approaches. This is especially pertinent to patients with larger and aggressive tumors.
Intensity-Modulated Radiotherapy (IMRT)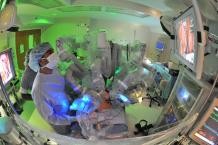 The University of Chicago Medicine was the first health care provider in Chicago to offer IMRT to its patients. Combining this advanced technique with years of experience, radiation oncologists can maintain excellent cancer control rates yet limit the long-term toxic effects of radiation on healthy organs.
The radiation specialists at the medical center are experts in using IMRT to deliver the most benefits--with the fewest possible side effects--to cancer patients. IMRT is so effective that it is now considered the standard of care for difficult-to-treat genitourinary cancers, rectum, pancreas and other areas. For example, our doctors can use IMRT to reduce the doses of radiation to normal bowel tissue, thus minimizing the potential impact of radiation on normal tissue and maintaining the patients' quality of life. For prostate cancer, exposure of the nearby bladder or rectum can be minimized.
Other treatments available include brachytherapy, stereotactic radiosurgery, external beam radiotherapy, and prostate seed implants.
Clinical Research
Dr. Stanley Liauw oversees the genitourinary (GU) cancer program within the Department of Radiation and Cellular Oncology, at the University of Chicago. His clinical research includes describing prognostic factors associated with biochemical outcome (statin use, and PSA kinetics on hormonal therapy), prognostic factors associated with late toxicity of treatment (anticoagulation therapy, and prior history of transurethral resection of the prostate), and biochemical outcomes in various treatment settings (brachytherapy, IMRT, post-prostatectomy). A number of translational and scientific research projects have been pursued within the Department of Radiation and Cellular Oncology in collaboration with Chairman, Dr. Ralph Weichselbaum. The prostate SPORE grant at the University of Chicago (in collaboration with Northwestern University) includes three intradepartmental aims: a phase I/II clinical trial of radiosensitizing gene therapy for high risk prostate cancer, an immunohistochemical study identifying potential markers of radioresistance, and preclinical studies aimed at enhancing radiosensitization by modulation of NFKB activation. A separate project, which has received funding through the Prostate Cancer Foundation (a 3-year Young Investigator Award to Dr. Liauw), involves the study of the lipid biosynthesis pathway to improve radiotherapeutic outcomes, and the possible role of statins in the management of prostate cancer.
Please see our Clinical Trials database for more information.