Because of novel discoveries taking place at the University of Chicago and other Ludwig Centers, patients with metastatic disease may not be told that they have run out of options. Instead, they will receive hope and a realistic chance to beat cancer through the development of novel metastasis-focused treatments.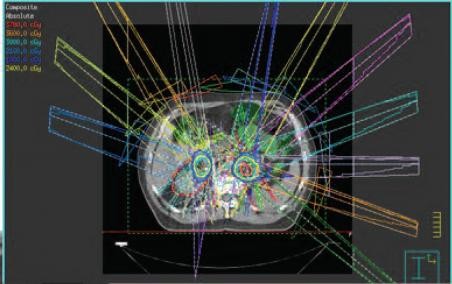 Dr. Ralph Weichselbaum, in conjunction with Dr. Samuel Hellman, has pioneered the treatment of potentially curative treatment of oligometastases with radiotherapy. Based on the observation that not all breast cancer may be widely metastatic at initial presentation, Dr. Samuel Hellman advanced our understanding of the natural history of metastasis through proposal of a spectrum hypothesis, with some breast cancers remaining locoregionally confined, others being metastatic at presentation, and some progressing from locoregional confinement to metastatic. Soon thereafter, Hellman and Weichselbaum described the clinically relevant oligometastatic state, where metastases are limited in number and destination organ, and where long-term disease control may be achievable with metastasis-directed therapy.
Dr. Weichselbaum leads the team of researchers at the University of Chicago that received a $90 million gift from Ludwig Cancer Research, on behalf of its founder Daniel K. Ludwig. Ludwig Cancer Research is an international community of researchers dedicated to pursuing life-changing discoveries to alter the course of cancer. Weichselbaum, Center co-director and D.K. Ludwig Professor and Chairman of the Department of Radiation and Cellular Oncology, said the gift meets an urgent and widespread need, particularly as cancer rates among the elderly in the United States are expected to continue to increase as the population ages. Read more about it here.
Dr. Steven Chmura is now leading a national team of radiation oncologists to test this treatment through a national clinical trial of oligometastatic breast cancer, in cooperation with the NCI and NRG Oncology. The Phase I trial will test the safety and efficacy of treating patients with 3-4 metastases with stereotactic body radiotherapy (SBRT). To complement this trial, a Phase II/III trial will randomize breast cancer patients with 1-2 metastases to standard of care chemotherapy or to SBRT followed by systemic therapy. These trials are the first in the world to test the effectiveness of SBRT in patients with limited metastases from breast cancer in a randomized, multi-institutional setting.
For more information on our translational research program investigating metastases, please visit our Ludwig Center for Metastasis Research website.